Support SOBEM to shine for God!
Showers of Blessing Evangelistic Ministry (SOBEM) is a nonprofit organization registered in Canada. All our ministry funds, which come from the generous support of churches and believers worldwide, go towards producing TV and radio testimony programs, purchasing broadcast slots and production equipment, developing our website and other digital platforms, updating our hotline service, producing outreach DVDs in support of Chinese churches and mission fields all around the world, and so on. We at SOBEM are committed to carrying out our mission in media evangelism and being good stewards of every resource for the work of the Lord.
Our budget for the year 2021 is approximately $1.73 million. We need wisdom from above to fulfill our duties and rely on God to supply all our ministry needs. As well, we earnestly covet the prayers and offering from fellow Christians. With combined strength, we can win more souls for Jesus!
Offering received: : $1,212,400
Still pending: $517,600
---
Click the "Donate" button and you will be taken to the PayPal secure site. You can then make a donation to SOBEM using your credit card. All donations are in Canadian dollars. Donations $20 or over will be issued a receipt for tax deduction. Unless a specific request is made, tax receipts will be issued at the end of the year.

Please note: A PayPal account is not required to make a donation. You only need to enter the amount, click "Donate with a Card", then you can make a payment with your Visa / Mastercard / American Express / Discovery credit card. (See image below)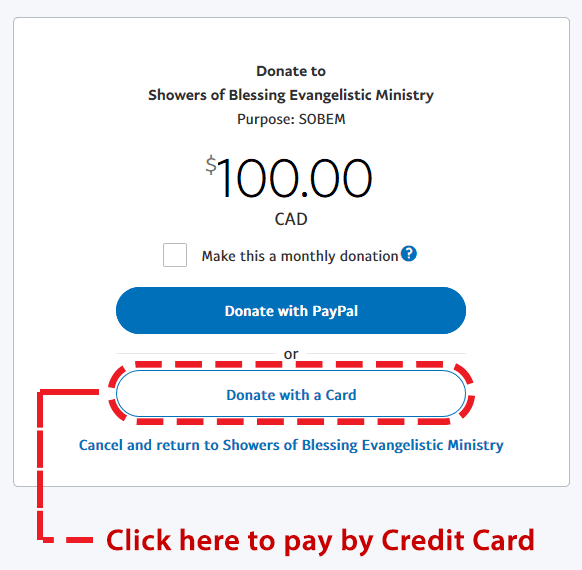 ---
Sign in to your online banking account
Choose "Interac e-Transfer"
Add "new recipient"
– Name: SOBEM
– email address: FINANCE@sobem.org
Enter amount
Enter your personal information for your tax-deductible receipt (including donor's name, address, phone number and email address)
There is no need to select a security question / answer; your donation will be automatically deposited to the SOBEM bank account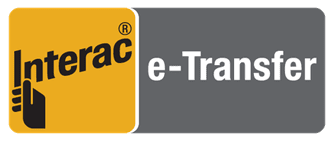 ---
Cheque or certified cheque
Credit card
Pre-authorized monthly payments
To donate, please click here to download the Online Donation Form. Send the completed form by mail, email or fax to SOBEM's headquarters in Toronto, Canada.
SOBEM Headquarters:
3410 Midland Avenue, Unit 9
Scarborough, ON
M1V 4V5
Phone:(416) 321-9288
Fax:(416) 321-1634
---
This donation plan allows you to invest on this earth while storing treasures in heaven. The procedure is simple, but your gift yields multiple rewards.
---
You can designate SOBEM as the beneficiary of your asset by will. This option has the following advantages:
You have full control over your assets while you're living.
Your donation plan will not affect your standard of living.
A donation receipt will be issued.
---
The procedure for stock donation is simple, yet it offers significant tax deduction benefits. This option has the following advantages:
The capital gains resulted from stock donation are tax deductible.
You will receive a donation receipt, and the donation amount is equivalent to the market value of the stock when it is transferred.
---
Business Sponsorship (Applicable to Canada only)
We welcome Christian business owners who would like to sponsor us in the name of their company. At the end of our program, which broadcast in all major cities in Canada, the name of your company will be mentioned as an acknowledgment of your support.
---
"Drops of Blessing" Donation Campaign
You can join this donation campaign for the price of your daily coffee. Every dollar counts. Together, we can reach out to Chinese-speaking people all around the world with God's love.
---
Contact us at (416) 321-9288 or  finance@sobem.org to find out more.
---
Information collected is used strictly for statistical and communication purposes with utmost confidentiality, and will not be sold, traded or shared. For more information, please view our privacy policy .
Charitable Registration No. 13491 6691RR0001